Drew and I went to New York this weekend, and wandered around like the naive nerds we are. I've been living in Philly for almost a year and yet we hadn't made it up yet (with the exception of hackNY, which I hesitate to count because we basically didn't make it out of one building). So when we headed out on Friday we were armed chiefly with our smartphones and our curiosity.
It was a great (and exhausting) weekend. Here are three of the things we did right–things which I'd recommend to other students who are heading to NY for the first time.
Walk everywhere.
We tend to walk anyways because it's inexpensive and exercise, but in New York this had other benefits as well: We got to see more. We accidentally walked down Fifth Avenue. We accidentally walked through Times Square. ("I was hoping you'd think that was on purpose," Drew said.)
We intentionally walked down the Highline (which is wonderful at night, by the way) and through Central Park. There were a lot of things we would have missed if we'd taken cabs or the subway. One word of warning—wear good walking shoes. After a day of walking around in flats my feet were killing me.
Ask friends for suggestions.
I'm fortunate in that quite a few of my classmates are from New York, so we had lots of advice. (More than we could take, really.) This advice was really helpful–it helped us remember some of the non-obvious things to do and also introduced us to new things. Also: suggestions from friends are generally more pertinent than suggestions from, say, parents.
We also met up with a friend of mine from middle school, Margot Pinckney, who, after a delicious brunch, helped us navigate Central Park. (We were searching for some people who blow bubbles 6 feet tall, but never found them. Oh well–it was a lovely walk anyways.)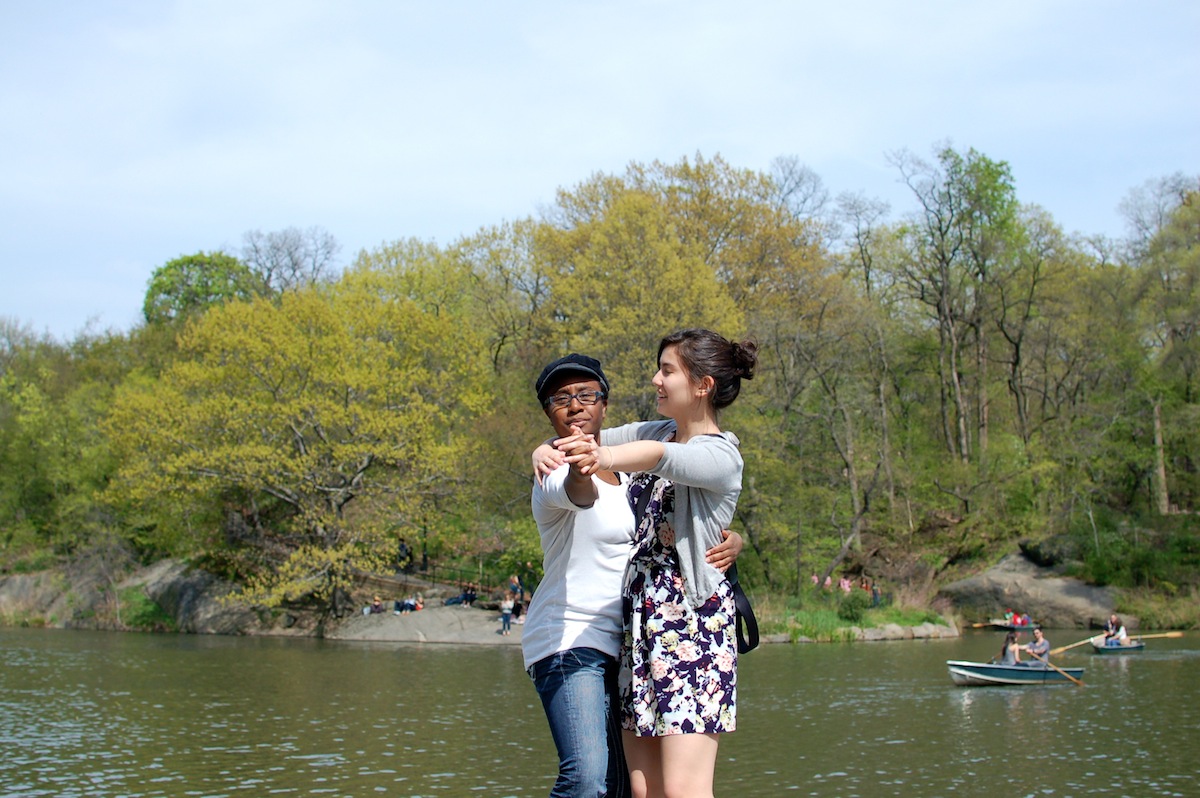 Use foursquare Explore.
In some ways, this is just like asking your friends for suggestions. In other ways, it's better.
Foursquare Explore uses data from everyone's checkins to suggest restaurants/bars/parks/whatever (you can search!) near you. It also weights venues that your friends frequent more heavily. So when Drew and I were meandering through the East Village–and starving–I used Explore to find a popular restaurant that had also been visited by another friend on foursquare. (Dinner was delicious.)
Explore is great if you don't like making solid plans in advance. You can just wander into an area at any time, hit Explore and see what you get. If you were to call a friend, a) they might not answer and b) their suggestions might be on the other side of town. Explore doesn't have these problems. So if you don't have foursquare, now is the time to get it (and get some knowledgable foursquare friends, too).
(They didn't pay me to say that.)
 I'm Tess Rinearson, a freshman in Computer Science at the University of Pennsylvania and n00by East Coast newbie. If you liked this post–well, there aren't many others like it on this blog yet. (Mostly I write about women in CS and hackathons and sometimes both at the same time.) But there might be. You can follow me on Twitter @temiri.
Oh, and all these photos are my own. Copyright 2012 Tess Rinearson, all rights reserved, etc. etc. blah blah blah.
You might also like...
Comments
comments
Powered by Facebook Comments